Hey Friends! Here is another edition of our favorite things! What are yours?
thinkThin Protein Bars
I found the thinkThin protein bars at Trader Joe's a few weeks back and have been eating them ever since. I have never been a "protein bar/meal replacement" type of girl, but these are just different. I personally prefer the thinkThin Brownie Crunch Protein Bar. I have this in the morning with an apple or a banana and I am full and feeling good. Plus they taste good.
Origins Ginzing
I'm always in search of the perfect eye cream to cover up my horrible under-eye bags and puffiness. This is the only product I've found that does both. It instantly reduces dark eye circles. Bags and puffiness virtually disappear. This cream uses caffeine from coffee beans, ginseng and magnolia extract to wake your eyes up, refresh and restore tired eyes. And it smells good too.
Bare Minerals Blemish Therapy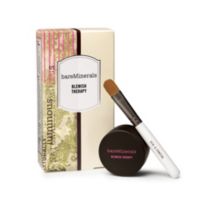 I'm in my thirties and I still break out. It's embarrassing! They aren't the tiny, hardly notice them ones either. They are the huge, I have a mountain on my forehead ones. I've tried everything from over-the-counter creams to doctor prescribed ones. This product is the only one I've found that actually helps it disappear without totally drying out your skin too!
It's a powder that you just dab on your blemish. It even helps cover it up when using it during the day. My breakouts are gone within a day or two with this. I don't know how I survived before without this. You can find it online at Bare Minerals, Ulta or even Amazon. It's about $18 but a little goes a long way. So one of these will last for a long time.
Essie Nail Polish, Carry On
This is the perfect nail polish shade for Fall. It's a deep romantic burgundy. I love dark colors to bring you into the Fall season. Check it out today.

Lil Wayne's - Sorry 4 the Wait Mixtape
If you love rap then you will love this CD. Lil Wayne dropped this CD back in July to say sorry to his fans for the inevitable delays of Tha Carter IV cd and he uploaded it on the internet for his fans to download for FREE. Now that's some lovin. Lil Wayne freestyles over popular songs like Adele's "Rolling in the Deep" and Drakes "Marvins Room."