The Golden Globes were this past weekend, kicking of the best of 2012 Hollywood Award Season. The Golden Globes are one of the best award shows as they recognize the best in film and television.
We are two girls who are mostly on the same page, but sometimes differ in our style picks...here is our breakdown of the Best and Worst dressed at the 2012 Golden Globes.
JBean
: First, can we discuss one of the hosts of E! Fashion Police, Kelly Osbourne and her new Gray/Purple hair? Not a fan. Kelly said she gives her hair a break from dyeing with this color. Wasn't a fan of this dress either, was boxy and wasn't flattering to her figure. Worst Dressed.
KiKi
: This look is really fashion forward...forward like 100 years. It actually reminds me of the way a character in the Hunger Games would look.
Amanda Peet's Ruffled Curtain Dress, Worst Dressed
JBean:
It looks like she tore the curtains down in her house and put them on. And not in a good Scarlett O'hara type of way.
The Artist's Uggie, Best Dressed
JBean:
Adorable in his little bow tie and doing tricks on the red carpet
Jessica Alba, Best Dressed
JBean:
Loved the color and the shape really complimented her after-baby body. This dress had the cutest little train too. She looks flawless! Best Dressed #3.
KiKi
: How did she lose the baby weight so fast? Amazing. Anyways, the purples in this dress are just beautiful and I adore her matching purse. Her hair is kind of boring, and from the front it looks really short.
Sarah Hyland, Best Dressed
JBean
: Loved this dress! Loved the color, the lace, the shape. Her hair and make-up look so pretty too! I actually want to steal this look. Same Best Dressed #1 pick.
KiKi
: This dress is vintage and the zipper broke on the red carpet. The girl got sewed in to her dress on the red carpet. That's commitment. I would sew myself into this dress too, it's so glamorous. This magnificent dress and overall look is my number one choice for Best Dressed. #1
Reese Witherspoon, Best Dressed
JBean
: She looked stunning as always with her wavy hair and gorgeous red dress. Her figure is amazing! I love how she was so relaxed during the red carpet too. Love her! Being a newlywed agrees with her. She's my Best Dressed #2.
KiKi
: Reese looked svelte in this dress, but the top looks a little loose.
Madonna, Worst Dressed
JBean
: Making her first Golden Globes appearance in years. Not a fan of this dress at all, from top to bottom it's a disaster. She was funny when she presented an award tonight, so she's got that going for her.
KiKi
: Yet, its classic Madonna, no one can say she is not original. I actually really like the top of this dress, it's the bottom that looks a little patchy.
Sofia Vergara, Best Dressed
JBean
: Looking stunning as always. Loved the blue sapphire color and the mermaid shape was a trend this year on the red carpet. I loved the details on the bottom. Her body is amazing, she better flaunt it!
KiKi
: Everything about this look is perfect. The blue color of the dress is striking...mix that with the feathery texture of the trumpet at the bottom and it equals amazing. Sofia accented this look with beautiful diamond bangles. #2 Best Dressed
Kate Beckinsdale, Best Dressed
JBean
: Loved the color, shape and the diamond earrings. The same mermaid shape, yet so elegant.
Lea Michele, Best Dressed or Worst Dressed
JBean
: Not a fan of these cut outs in the dress. Her hair made her look much older than she is as well. Worst Dressed #1.
KiKi
: I think this dress is interesting. I can't say I love it, but I can't say I don't. It's almost more of a costume.
Dianna Argon, Worst Dressed
JBean
: From top to bottom and all the swans in between, not a good look. She sometimes makes great fashion choices, but I'm not liking this. This might be my Worst Dressed #2.
KiKi
: I am so happy that people wear dresses like this because it really makes for an interesting night. I love the first half of the bottom of the dress, so basically, from the waste to the knees....and that's it.
Emma Stone, Worst Dressed
JBean:
She usually has great taste. Didn't like the colors, style, the eagle on the front or her red earrings. Loved her hair though.
Sarah Michelle Gellar, Worst Dressed
JBean
: She said she let her 2 year old daughter choose the dress, maybe that was the problem. Loved the high ponytail though. Worst Dressed #3.
KiKi
: Just awful. Worst Dressed winner.
Charlize Theron, Best Dressed
KiKi:
Charlize wowed in this dress. I wish I could put up a video so you could see all the views of this dress.
JBean:
She did look flawless in this dress. Loved her make-up and soft hair too.
Heidi Klum, Best Dressed
KiKi
: This dress is so magnificent and the back is open. I have a feeling she might get some hits for this dress because it's more of a summer dress, but not many people could pull off the nude and the turquoise jewelry is just so fun.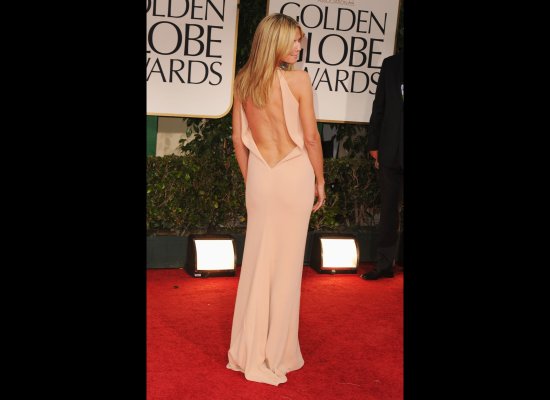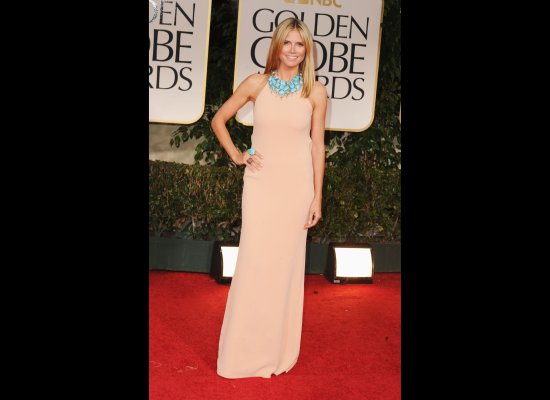 Kyle Richards, Winner of the "How did I get invited? Award"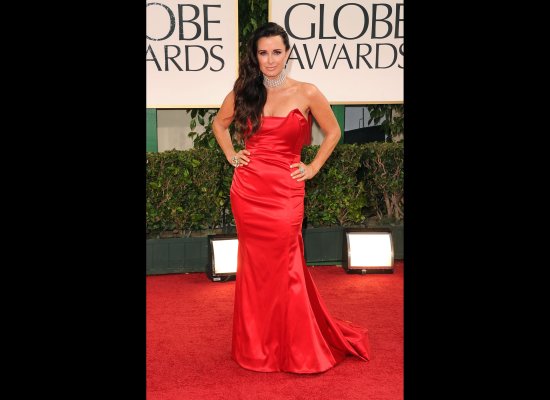 Jesse Tyler Ferguson, Best Dressed
KiKi
: Looking Good, Like it all except the white on white bow tie.
Gerard Butler, Best Dressed
KiKi:
Even though Mr. Butler has lost some of his bulk, he is still looking mighty fine. He is dressed to impress and his scruffy facial hair makes him look like a bad boy.
Zooey Deschanel, Worst Dress
KiKi
: This is so horrible. It looks like the beginning of a video game screen. I don't even get it. I am serious, can someone explain this to me?
JBean:
See I liked this for her. This is totally her quirky dork-able style. Loved her hair and make-up too. Love her!
What were some of your favorites or misses this year at the Golden Globes? Did you agree with our picks?