As far as award shows go, the Grammy Awards Show is one of the most fun and most watched award show of the year. We all know that rock stars don't always follow the rules when it comes to life and fashion. So scroll down and look at our best and worst nominations for this years Grammys 2012 - Red Carpet Showdown.
...and Please let us know what you liked and what you didn't.
Katy Perry
KiKi: She is a Disney Princess. This dress reminds me of something I would have seen in a fairytale or something that Julie Andrews would have worn back in the day. I absolutely love everything about this dress, its so flattering, unique for this type of event and what a cool shade of blue.
#1 Best dressed of the night.
JBean: I didn't like this. I thought it made her look matronly. She usually stuns in something 'Katy Perry-esque' at the Grammys. So I was expecting more wow from her. Maybe if she wore this to the Golden Globes or something, this would be acceptable for her.
Carrie Underwood
KiKi: Looks great. It's safe and kinda boring for this type of award show. Yet she still looks beautiful. It's classic Carrie.
JBean: Love her. She looks gorgeous as always. Classy and stunning.
Kelly Osbourne
Best purple/gray hair I have ever seen.
KiKi: I actually think this hair color may be her color and shes looks the best I have ever seen her. She looks happy from the inside out and her hair matches her fun personality perfectly. As far as the dress goes, I like it, it's sparkly, flattering and glamorous.
JBean: Not a fan. The hair color just doesn't work for me. She did look happy, so good for her. The dress looks great on her though.
Rihanna
KiKi: Rihanna helped design this dress with Georgio Armani. This is a very sexy look and makes her look like a seductress. I wish I could pull it off, and I am pretty sure every other woman in the world wishes that too.
#2 Best Dress of the Night
JBean: Agreed. She looks amazing. Jealous.
Taylor Swift
KiKi: Taylor looked like the young glamorous star really is in this Zuhair Murad dress. Taylor is such a natural beauty and she was able to put her hair up in a simple bun and still look fabulous. This dress was unique, fun, and almost had an old Hollywood feel to it. At the same time, the dress kind of reminds me of an authentic Indian garb. I can't put my finger on it.
#4 Best Dressed of the Night
Jane Seymour
KiKi: Dr. Quinn looked great in this gold one shoulder dress. Can you believe shes almost 61?
Joe Champa
KiKi: This long black lace dress has a dark yet sexy look to it. I love the black lace and the silver bling on the belt is perfectly placed to break the black up.
Kelly Rowland
KiKi: Kelly stuns in this nude dress, though I originally thought it was peach. I personally think Kelly was the classiest looking artist in the room and her hair looks beautiful.
#3 Best Dressed of the Night
Adele
KiKi: I think this dress is figure flattering and I do like it. Love her hair and red lipstick more though!
JBean: Adele looked amazing on her huge Grammy win night! Loved her dress, new hair do/color and make up. Stunning!
Dierks Bentley
KiKi: He's probably a little under dressed however his outfit is my favorite for all of the men the entire night. He is not overly fashionable, just classic and good looking. This is how you wear black and brown together.
JBean: So Handsome. It's the Grammy's, I think the guys totally can be under dressed, they are rock stars.
Guiliana Rancic
KiKi: Too safe! I think the dress looks like a bridesmaid dress with a fun belt. Do love her hair though.
#1 Best bridesmaid dress of the night.
JBean: Bridesmaid = hilarious! True. She could have rocked it out more for the Grammys. She always has amazing hair.
Nicki Minaj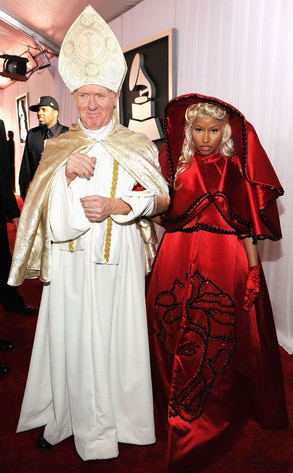 KiKi: I think this wasn't fashion but part of a costume that went with the character of her performance. So can't really vote. I like classic Nicki, dressed like a barbie! She is the most amazing singer and female rapper out there right now. I don't think she was trying to be controversial at all, I think she was playing an interesting character.
JBean: I thought her performance was horrible. Could she be trying any harder to be more controversial? She's not Madonna or Gaga, sorry girl.
Blake Shelton
KiKi: He sure is one handsome looking man. I very much dislike his pants but love the tie, jacket, cowboy boots and mostly his bad boy hair style.
Neil Patrick Harris and his hubby David Burtka
KiKi: These are two handsome, very good looking men. I can't decide which suit I like more, I love three piece suits but I am really liking David's tie.
#1 Best looking couple of the night.
JBean: Agreed. Cute couple. Did you see David video taping them down the Red Carpet? So cute!
Wiz Khalifa & Amber Rose
KiKi: Coolest looking couple. I saw them interviewed and they both seemed really down to earth and just really in love.
Sasha Gradiva, singer
KiKi: Beautiful dress, just stunning, the light Easter pink is so pretty. Arm guns, ummmm, kinda makes me feel like she was a character from The Terminator movie. Yet, these off the wall outfits and costumes is why the Grammys are by far the most fun award show.
Bruno Mars
KiKi: 90210 Brandon Walsh and Luke Perry look alike.
JBean: Ha. I love him. Love his style, love his music, love his onstage energy!
Alicia Keys and Swizz Beatz
KiKi: Swizz is looking tall and sexy in his purple jacket and bow tie. I really liked that he didn't wear tight pants like every other guy.
#1 Best dressed Male of the night!