Hey Friends,
We wanted to share some of our favorite things with you again this week.
Bath & Body Works Wallflowers Home Frangrance's really freshen up the smell of your home. You put these scent refills into a Wallflower plug in and Abracadabra...your home instanly smells amazing. My favorite scent is Warm Vanilla, but I have also tried Strawberry.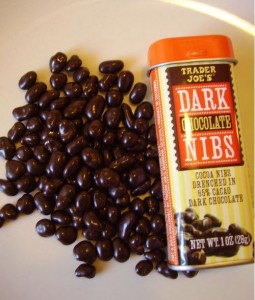 Need a Quick Chocolate Fix? Try these Dark Chocolate Nibs from Trader Joes. It will take you a while to finish them and the entire tin is only 140 calories, so you won't feel so bad after you eat them and your craving will have been satisfied.
This is an easy to use gel that boosts shine right in the shower, without affecting your color. Great if you just need a boost of shine. And perfect for when you are between color appointments. All you need to do is shampoo, condition and glaze! It's safe to use everytime you shower or just a few times a week.
Goodie Hair Twists
They are the perfect way to get your hair up in a quick up-do or bun. Simply pull up the hair how you want it and twist one of these down from the top and twist one up from the bottom. Voila! Instant chic bun!
Garnier, Skin Renew Dark Spot Corrector
This new lotion from Garnier is supposed to reduce the appearance of darks spots from aging, blemishes, etc. Its has pure Vitamin C to break up the dark spots and lift them away. I just started using it a few weeks ago, but I feel like its working. My skin just looks better. And it will get better the longer I continue to use it. It contains SPF to keep away the harmful rays. Bonus! It smells amazing! I would use it on that alone.
Adele's 21 Album
I listen to this album almost every day! Adele is so talented. I love every song on it. Her voice is amazing!
My new favorite song on this album is Set Fire to the Rain.
Listen to the song here: http://www.youtube.com/watch?v=yQREXbHkqe0